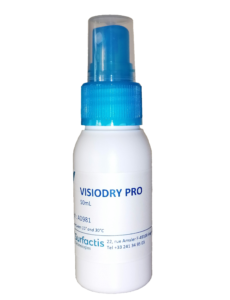 VISIODRY PRO

VISIODRY PRO consequently meets a previously unsatisfied need across numerous professional environments for a product that keeps optical surfaces dry, enabling them to operate at optimum efficiency or simply remain in working order.
Possible uses include outdoor cameras, safety goggles, guidance systems, microfluidics, etc.
In end-user environments, the product has numerous other possible uses, including protecting motorbike helmet visors, ski goggles and wing mirrors. For further details, click here  www.visiodry.com
VISIODRY PRO is the market's first-ever superhydrophobic and transparent product
Superhydrophobia equates to an increased hydrophobic effect.
All the products available on the market impart hydrophobic properties to the treated surface, ensuring water gradually slides off the surface if energy is applied (by tilting the surface or exposing the surface to a windblast through movement or blowing). Removing water can consequently be a rather laborious task.
With VISIODRY PRO, however, the surface instantly dries on coming into contact with droplets of water, which simply bounce off. Tilting the surface to less than 10° from the horizontal causes the water droplets to roll off.
Furthermore, its ultra-low surface energy dramatically reduces the adhesion forces of any contaminant, whilst leaving the surface's appearance unchanged.
Applying VISIODRY PRO couldn't be easier – simply spray and go! The superhydrophobic effect it imparts in no way alters the substrate's visible or IR light transmission properties, whilst delivering outstanding anti-wetting performance.
Effective: VISIODRY PRO keeps surfaces perfectly dry and crystal clear in the presence of water. 
Benefits: 
Superhydrophobic

 

Transparent

 

Easy to apply, no additional equipment required in order to treat a surface

 
Easy to apply: VISIODRY PRO is a ready-to-use product that simply needs to be sprayed onto the surface. Once treated, the item is ready to use as soon as the surface has dried (no further treatment required). 
Durable: VISIODRY PRO is a surface treatment that repels all kinds of water. VISIODRY PRO's properties last for several months if the surface is not rubbed. 
Temporary: The coating does not resist abrasion and can be wiped from the surface with ease. After wiping, the surface's original finish is fully restored. VISIODRY PRO can be reapplied at will. 
Patented: VISIODRY PRO is a fully patented product. 
Quality: The procedures followed when manufacturing VISIODRY PRO are ISO 9001 certified to guarantee optimum replication of VISIODRY PRO's effectiveness in your processes.