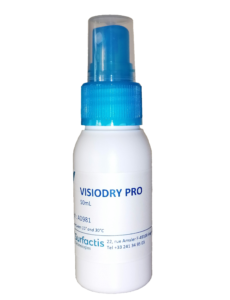 VISIODRY PRO

VISODRY PRO, is a superhydrophobic and transparent coating that brings rain and snow proof properties to transparent surfaces. Applied by simple spraying on all types of materials (glass, PMMA, varnish…), the water drops bounce off the transparent surface without ever wetting it.
VISIODRY-PRO is the first superhydrophobic and transparent product available on the market
Existing products are hydrophobic treatments that allow water to progressively slide off the surface if an energy is applied (wind related to a displacement or a wind tunnel). The evacuation of water can be laborious.
VISODRY PRO meets an unmet market need in many professional fields where optical surfaces must remain dry to have their optimal properties, to ensure user safety or simply to remain functional.
Many industrial applications
VISIODRY PRO has been validated by world leaders in the field of optronics who have demonstrated perfect signal transmission and image clarity from treated optics placed in degraded weather conditions (rain, snow).
In many applications, VISIODRY PRO allows to limit maintenance operations for cleaning or drying of optics.
VISIODRY PRO is used in the following industrial fields
Military and civil optronics
Outdoor surveillance cameras (highway, airport, industrial buildings)
Laser guidance systems
Protective eyewear
For consumer applications, such as motorcycle helmet visors, goggles, ski masks, rear-view mirrors, click on the following link visiodry.fr
 Surfaces remain dry and transparent
VISIODRY PRO® is a superhydrophobic coating developed on the basis of a property that exists in nature, in particular on the leaves of lotus or nasturtium. The surface of the leaves of these plants has hydrophobic roughness that allows air to be trapped under each drop. A drop of water therefore behaves as if it were on a cushion of air without any affinity with the surface. This phenomenon, called the "lotus effect", gives the surface self-cleaning capabilities that are beneficial to the plant: the water drops roll off the surface and carry away dust and particles.
With VISIODRY PRO, surfaces demould instantly on contact with water drops and the drops bounce off the surface. Less than 10° of inclination of the surface is enough to make the water drops roll off and evacuate them. Moreover, thanks to its very low surface energy, the adhesion of any contaminant is considerably reduced without changing the appearance of the treated glass.
Effective: VISIODRY PRO keeps surfaces perfectly dry and crystal clear in the presence of water. 
Benefits: 
Superhydrophobic

 

Transparent

 

Easy to apply, no additional equipment required in order to treat a surface

 
Easy to apply: VISIODRY PRO is a ready-to-use product that simply needs to be sprayed onto the surface. Once treated, the item is ready to use as soon as the surface has dried (no further treatment required). 
Durable: VISIODRY PRO is a surface treatment that repels all kinds of water. VISIODRY PRO's properties last for several months if the surface is not rubbed. 
Temporary: The coating does not resist abrasion and can be wiped from the surface with ease. After wiping, the surface's original finish is fully restored. VISIODRY PRO can be reapplied at will. 
Patented: VISIODRY PRO is a fully patented product. 
Quality: The procedures followed when manufacturing VISIODRY PRO are ISO 9001 certified to guarantee optimum replication of VISIODRY PRO's effectiveness in your processes.