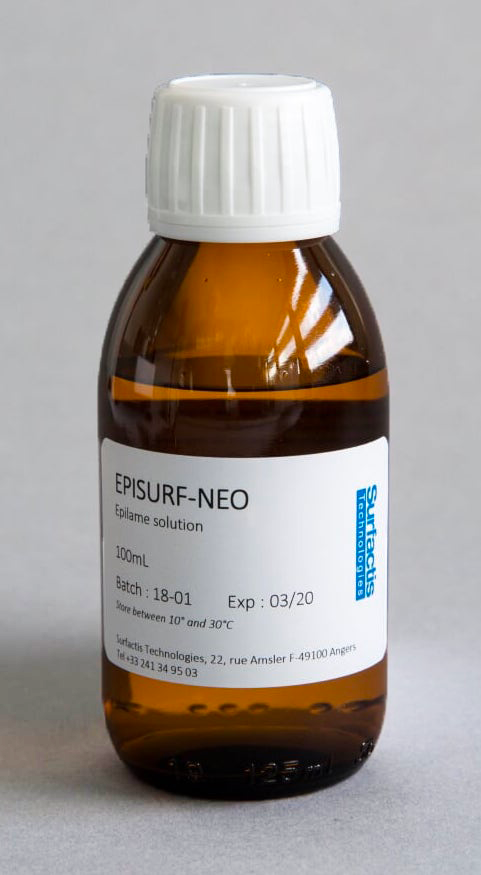 Episurf

Episurf-Neo is a high-performance surface agent, or epilame, that combats oil spread by reducing the substrate's surface energy.
The contact angle for watch oil applied to surfaces treated with Episurf-Neo exceeds 70°.
Watch parts treated with Episurf-Neo present no visual alterations or whitening, and our newly-improved product is now more effective than ever, boasting enhanced resistance to washing cycles as well as being environmentally responsible.
This state-of-the-art oleophobic coating binds to a broad range of materials as a homogeneous self-assembled monolayer of constant thickness, making it the epilame of choice for the most    prestigious watchmakers and repairers both in Switzerland and around the world.
Effective: Episurf-Neo is effective on all watch mechanism surfaces and can be applied following all part washing procedures (involving either solvents or detergents).
Easy to Apply: Episurf-Neo is a turnkey solution – simply dip parts for 30 seconds.
Reliable: the self-assembled nature of Episurf-Neo guarantees a homogeneous coating of constant thickness that can be reproduced with ease in a variety of industrial contexts. Application can either be done manually or in a watch washing machine (Horotec, Elma, Greiner, Jema).
Universal: suitable for use on a wide range of watch movement materials, including metals and ceramics.
Invisible: Episurf-Neo binds to the surface as an ultrathin monolayer of constant thickness (<5nm), causing no visual alteration or whitening of parts.
Resistant: The epilame delivers excellent long-term washing cycle resistance (solvents, detergents).
Environmentally friendly: Episurf-Neo is an environmentally responsible product with an Ozone Depletion Potential of 0 and a Global Warming Potential of 2.5. Its atmospheric lifetime is under 10 days, which is fully compliant with international regulations, including those enforced in Switzerland.
Episurf-Neo is non-flammable and non-explosive.
Patented: Episurf-Neo is a patented product (patent numbers WO2008017721 and WO2017144480).