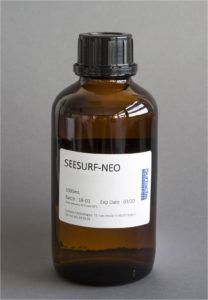 SEESURF NEO

With its silane-based anchor, SEESURF NEO® is an ideal surface treatment for functionalizing glass surfaces and many other materials.
SEESURF-NEO® is a high performance hydrophobic and oleophobic agent. It prevents the spreading of oil or water by reducing the surface tension of the treated part. It prevents contamination of glass surfaces.
SEESURF-NEO® is invisible, of nanometric thickness, its application process is fast and reproducible. SEESURF-NEO®'s performance allows for an effective, long-lasting surface treatment that is resistant to many conditions.
SEESURF-NEO® is an environmentally friendly product that complies with European and international regulations.
SEESURF NEO® is useful for :
– Rendering surfaces water and oil repellent
– Reducing adhesion and facilitating demolding of composite materials on metal molds
– Limit contamination on oxidized surfaces
– Facilitate water flow on all types of glass
SEESURF-NEO®  is an ideal replacement for the DOW CORNING 2634 product. It offers the same level of performance.
Our industrial customers use SEESURF NEO to improve the life and reliability of their installations and to reduce maintenance costs.
Effective: SEESURF NEO prevents contaminants from adhering to the glass used in the  industry.
Benefits:
Accuracy and reliability of measuring instruments
Increased instrument life
Reduction of maintenance costs
Easy to apply, no need to purchase surface treatment equipment
No post treatment after application
Easy to apply: SEESURF NEO is a ready-to-use product that can be applied by spraying, dipping, rinsing or wiping and then drying. The surface is immediately effective (no post treatment).
Reliable: SEESURF NEO ensures a reproducible treatment. The ultra-thin structure of Seesurf Neo's protective layer does not alter the data collected by the sensor. 
Resistant: The coating is resistant to hydrocarbons, solvents and detergents with long-term effectiveness up to 150°C.
Environmentally friendly: SEESURF NEO is an environmentally friendly product with an ozone depletion potential of 0. Seesurf Neo is a non-flammable and non-explosive product.